The land which was referenced as 'Kambhoj' in Mahabharat, is todays Cambodia! Hindus resided here till 15th century. It is said that Hindu empire by the name Khmer ruled Cambodia from 802 AD till 1421 AD. In reality, Kambhoj region was Sage Koundinya's area. Also, Kambhoj region was also a region of Nagas. As per references available, the King of Kambhoj had also participated in the war of Mahabharat. Being a region of Nagas, this is also the region of Deity Shiva and it is said that Shrivishnu's vehicle Garud resides on the Mahendra mountain. Therefore this is also a region of Shrivishnu. This article details few highlights of the study tour conducted by Shrichitshakti Mrs. Anjali Gadgil and 4 student seekers, in this Kambhoj country, the region of Harihar.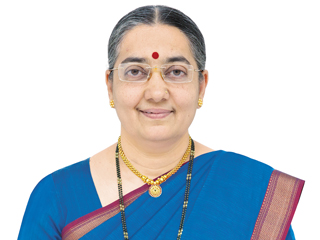 1. King Rajendravarman II donated a big piece of land to his 2 ministers, where they built Deity Shiva and Devi Parvati temple named 'Tribhuvan Maheshwar' later known as 'Banteay Srei'
In the 10th century, King Rajendravarman II ruled Yashodharpura. He gave away a huge piece of land to two of his ministers from royal court named Vishnukumar and Yadnyavarah. These 2 ministers established a town named 'Ishwarpur' on that land. This town itself is today's Phnom Dei village. Vishnukumar and Yadnyavarah constructed a temple of Deity Shiva and Devi Parvati in the center of the town and named it as 'Tribhuvan Maheshwar'. This is today's 'Banteay Srei' temple (see photo 1 below). This is a very beautiful temple built using stones, however it is in dilapidated state now. The inscription on the stone mentions installation of crown of the temple being done on 22nd April 967.
Distance between Angkor Wat and Mahendra mountain is 70 kms. Once upon a time, women from Kshatriya (Warrior class) class used to reside in Phnom Dei village which is located in the path towards Mahendra mountain. Local people consider that 'Banteay Srei' temple was a fort belonging to these Kshatriya women. 'Banteay' means fort and 'Srei' is corrupt form of the word 'woman'. Out of several temples in Angkor region, this is the smallest one and the carvings and sculptures found in this temple are not seen in any other temple.
More than 1000 year old ancient 'Tribhuvan Maheshwar' temple in Phnom Dei village, which is located in the pathway towards mountain Mahendra, is today's Banteay Srei temple.
Extremely beautiful carvings on the entrance door of Deity Shiva and Devi Parvati's temple.
Scene of Shrivishnu's incarnation Narsimha slaying Hiranyakashyapu, carved on the entrance of the temple (highlighted in circle)
2. Proof of presence of Shrivishnu-Malakshmi temple in the premises of Deity Shiva-Devi Parvati temple and walls and doors of the temple bearing various beautiful scenes of Ramayan and carvings of Deities
There is an evidence of presence of Shrivishnu-Mahalakshmi temple in the premises of Deity Shiva-Devi Parvati temple. This is the specialty of this temple. Currently both of these temples are in dilapidated form. Walls and doors of these temples bear beautiful sculptures carved on them. Amongst the main ones are war between Vali and Sugreev, Narsimha slaying Hiranyakashyapu (see picture 3), Demons Sunda and Upasunda fighting against each other to acquire Apsara Tilottama, Ravan kidnapping Devi Sita, Bhagwan Shiva sitting on Kailash mountain, Ravanasur lifting the Kailash mountain, Deity Agni swallowing the Khandav forest and Shrikrushna-Arjun assisting Him, Kamdev sporting arrow on Deity Shiva and Deity Shiva burning Kamdev in ashes through His third eye etc.
3. Presence of beautiful carvings on the entrance doors of Deity Shiva-Devi Parvati temple
Another specialty of Deity Shiva-Devi Parvati temple is the presence of entrance doors in various directions and beautiful carvings on them (see picture 2 above). The sculptures carved on them are so special that no other sculpture in the world could be comparable to them. Sculptures of Nandi and Garud are also carved on the entrance doors of Deity Shiva-Devi Parvati and Shrivishnu-Mahalakshmi temples respectively.
– Shri Vinayak Shanbag, Cambodia
We could closely experience the presence of Hindu culture existing since earlier times in this region of Cambodia which is approximately 3000 kilometres away from India. Millions of gratitude unto the holy feet of Paratpar Guru Dr Athavale, for providing us this opportunity. – Sadguru (Mrs.) Anjali Gadgil