Events related to war depicted through various sculptures in Bayon temple, Cambodia. Events related to war are carved on the walls of the temple.
·     
In this picture, war between Khmer soldiers and Champa soldiers is depicted.
The picture shows thick sacred threads charged with tantra-mantra worn by the soldiers. These sacred threads act as protective sheath for the soldiers.
Idols of Vasuki and Takshak snakes at the entrance of the temple
The land which was referenced as Kambhoj in the scripture Mahabharat, is todays Cambodia! Hindus resided here till 15th century. It is said that the Hindu empire 'Khmer' ruled Cambodia from 802 AD till 1421 AD. In reality, Kambhoj region was Sage Koundinya's area. Also, Kambhoj region was also a region of Nagas. As per references available, the King of Kambhoj had also participated in the war of Mahabharat. Being a region of Nagas, this is also the region of Deity Shiva and it is said that Shrivishnu's vehicle Garud resides on Mahendra mountain. Therefore this is also a region of Shrivishnu. This article details few highlights of the study tour conducted by Shrichitshakti (Mrs.) Anjali Gadgil and 4 student seekers of Maharshi Adhyatma University, in this Kambhoj country, the region of Harihar.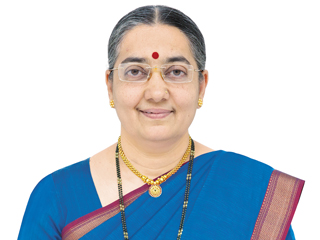 Carvings on the walls of Bayon temple depict scenes of war between Khmer (Cambodian) and Champa (Vietnamese) soldiers
There are many carvings on the walls of the temple. The left and right sides of the main entrance bear carvings of scenes of war. It contains the scenes of war between Khmer (Cambodian) and Champa (Vietnamese) soldiers (see picture 1 above). It includes many scenes along with the one depicting Chinese soldiers extending their support to Khmer soldiers. Attire worn by the soldiers during the war is unique. Thick sacred threads charged with tantra-mantra are seen wrapped on the body of the soldiers. These threads are protective sheath of the soldiers. The people then had a firm belief that wrapping threads charged by worship of Deities will impart protection to the soldiers. This shows how the soldiers of those times have given a thought to spirituality in each and every thing (see the picture 2 above). Idols of Vasuki and Takshak snakes are present at the entrance of the temple (see picture 3 above) and in few places, one can see Shrivishnu's vehicle, Garud too. Few walls also bear carvings of events from Ramayan and Mahabharat.
– Shri. Vinayak Shanbag, Cambodia
Cambodian kings imparted spiritual protective cover to its soldiers, however Indian rulers till now have not given a thought to this!
In view of protecting the nation, the Cambodian rulers of those times used to worship Deities and impart spiritual protective cover to their soldiers through the medium of tantra-mantra. This proves that those kings used to take care of the nation and their soldiers from spiritual perspective also. As both king and its citizens were abiding by Dharma, the entire kingdom and its subjects were happy and prosperous. This shows how their thinking and acts were commensurate with spirituality, thousands of years before. This is indeed a point for Indian political leaders to learn from. This is a world famous example of how progress of a nation and its subjects is impossible without Divine support.
– Shri. Diwakar Agawane, Cambodia