'People around the world have been suffering from Covid19 since the year 2020, and even after 2 years have elapsed, people are still getting infected by this virus. Amidst this epidemic, it has been noticed that a new variant of the virus by the name 'Omicron' is now spreading everywhere. Information on 'Healing chants for spiritual protection from coronavirus and duration of chanting' as well as the audio recording of the chants have been made already available on Sanatan Sanstha's website – Sanatan.org. Several people across the globe have benefitted through this information. This article gives information on healing chants for obtaining spiritual protection from 'Omicron' variant.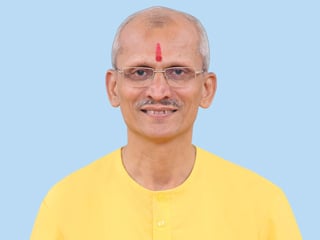 1. Healing chant for 'Omicron' variant
Om Namo Bhagavate Vasudevaaya | Shri Durgadevyai Namaha | Shri Hanumate Namaha | Om Namah Shivaya | Om Namah Shivaya |
This chant is a sequence of the five Names of God and should be repeatedly chanted as per the above sequence.
2. Duration of chanting
A. If Omicron variant spreads in a region, the people in that region may get affected due to the virus. In such situation, to obtain spiritual protection from getting infected by the virus, one should chant the above healing chant for 1 hour.
B. If one is infected by Omicron variant, the above healing chant can be chanted for the duration as mentioned below as per the intensity of the symptoms, to increase one's spiritual power to fight the virus.
| Intensity of symptoms of virus infection | Duration of chanting |
| --- | --- |
| Mild | 1 to 2 hours |
| Moderate | 3 to 4 hours |
| Extreme | 5 to 6 hours |
3. Audio recording of the healing chant
To listen to the chant for reciting it appropriately, audio recording of the healing chant has been made available.
4. Differences observed between Covid19 and Omicron variant
Doctors have an opinion that Omicron variant is less dangerous.
| | Covid19 | Omicron variant |
| --- | --- | --- |
| 1. Nature | More subtle | Less subtle (Note) |
| 2. Symptoms of infection | Fever, cold or cough | Digestive system gets affected |
| 3. Detection of symptoms | Symptoms are not apparent immediately | Symptoms become apparent immediately |
Note : As the intensity of the adverse times is increasing, the fight against negative energies is transcending from subtle war to the war in the gross plane (towards the third world war). In the similar way, the diseases causing negative energies in the form of viruses are moving their focus from subtle to gross. Aligning to this, Omicron variant which has appeared after coronavirus is also of a less subtle form.
4. Prayer
'By Guru's grace, let the healing chant given above be beneficial to everyone across the globe, let the effect of Omicron virus on the world subside and let its spread get arrested. It is our prayer at the Holy feet of our Guru that through the efforts of repeating the healing chant let many people realize the importance and seriousness of spiritual practice in this adverse time and let them initiate their spiritual practice.'
5. Guidelines to the seekers
1. In the areas where cases of infection by Omicron variant have been detected, in those areas since the healing chant for providing spiritual protection from Omicron variant must be recited, the seekers can stop the recitation of healing chant providing spiritual protection from Covid19 (sequential chant of the Names of Shri Durga-Shri Datta-Shiva). In the areas where Omicron cases have not been found yet, in those areas the recitation of healing chant for providing spiritual protection from Covid19 can be continued as before.
2. After chanting the healing chants for spiritual protection from Omicron or Covid19, seekers should continue to chant the Name of God found using Pranashakti (Vital energy) flow technique.
3. Seekers have been already given instructions on chanting 'Nirvichar', 'Om Nirvichar' and 'Shri Nirvicharaya namaha' in the past. They should continue chanting this Name as well.
– Sadguru (Dr.) Mukul Gadgil, Ph.D.
Above mentioned healing chant is available on 'Sanatan Chaitanyavani' app as well. To download 'Sanatan Chaitanyavani' app, visit URL https://www.sanatan.org/Chaitanyavani
Disclaimer : At the outset, Sanatan Sanstha advises all our readers to adhere to all local and national directives to stop the spread of the coronavirus outbreak (COVID-19) in your region. Sanatan Sanstha recommends the continuation of conventional medical treatment as advised by medical authorities in your region. Spiritual remedies given in this article are not a substitute for conventional medical treatment or any preventative measures to arrest the spread of the coronavirus. Readers are advised to take up any spiritual healing remedy at their own discretion.