Take maximum benefit of the treasure of books published on various subjects, touching every aspect of human life! – appeals Sanatan Sanstha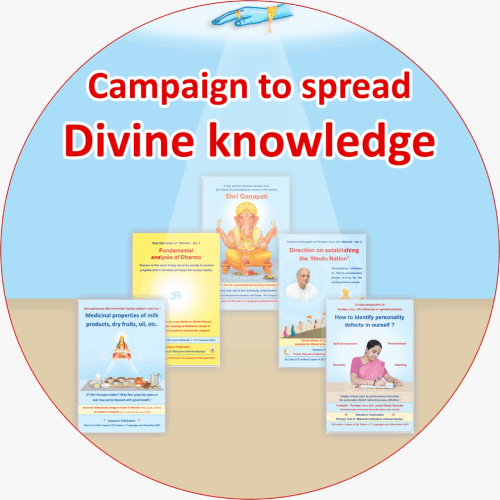 Sanatan Sanstha has published invaluable knowledge on various subjects such as spiritual science, 'Sattvik Dharmacharan', acts  related to the daily routine, Indian culture, etc; touching all the aspects necessary for the progress of human life. The Sanstha has undertaken a nation-wide drive to spread the divine knowledge available in these books amongst society. This drive is undertaken so that these books reach every 'jidnyasu (curious to gain more knowledge)', 'Mumukshu (whose  aim  in life  is to attain liberation)', and seekers, etc. so that they make use of this knowledge and fulfill the purpose of getting human birth. Sanatan Sanstha therefore, appeals that maximum number of people read these books and enlighten themselves.
There is a series of books on 'Bal-sanskar' under which there are books on the topics like 'Susanskar and good habits', 'How to study with concentration?', etc. Under the series of books on 'Why Dharma-shastra advises certain ways for every act, custom, tradition, etc. There are books on various topics such as the right way of celebrating a festival and its science; 'sattvik rangoli'; 'Alankar-shastra (the science of wearing ornaments), etc; under 'Achar Dharma' series, there are books on acts performed as a daily routine, 'sattvik' food, 'sattvik' way of dressing, hair-style, getting sound sleep, etc. Under the series of books on worshiping Deities, there are books on Deities such as 'Shri Ganapati', 'Shiva', 'Shriram', 'Shrikrushna', 'Shri Datta', 'Maruti', etc. There is a series of books on Ayurveda; besides various books on religious and social acts, first-aid, self-defence, growing medicinal plants at home; 'how to protect self and others during calamities like flood, earthquake, etc. Thus, there are 347 books published on various subjects. These books are available in 17 languages like Marathi, Hindi, English, Gujarati, Kannada, Tamil, Malayalam, Bengali, etc. 82,48,000 copies of these books have so far been published. These books are not only for seekers or devotees, but they are useful for 'jidnyasus' from every field like advocates, doctors, journalists, administrative officers, businessmen, patriotic citizens besides students, teachers, parents, home-makers, etc.
Extensive publicity is made through different means such as holding book exhibitions, contacting people, distributing handbills on the importance of all these books, digital books, holding special programs on news channels and social media, etc. Under this drive, meetings with Saints for their blessings; goodwill visits to eminent personalities are also arranged. The books published by Sanatan are good for regular use of every faction of society and people of all age groups. Sanatan Sanstha has, therefore, appealed to buy this treasure of books; gift it to others; give information on these books to your family, friends; sponsor them for schools-colleges, libraries, etc.
To buy Sanatan's books contact : 9322315317
– Shri. Chetan Rajhans, National Spokesperson, Sanatan Sanstha