2 thousand Hindus participate in the Dindi !
Kolhapur, May 13 – On the occasion of Sanatan Sanstha founder Paratpar Guru Dr. Jayant Athavale's 80th birth anniversary, a grand 'Hindu Ekta Dindi' was held in Kolhapur on 12th May. With the blessings of Shri Mahalakshmi Devi and following the example of Bajiprabhu Deshpande, 2,000 Hindus called for the establishement of Hindu Rashtra through 'Hindu Ekta Dindi'. Sanatan Sanstha's Sadguru (Sushri) Swati Khadye, Sanatan Sanstha's Saints H.H. Sadashiv (Bhau) Parab, H.H. (Dr) Sharadini Kore and H.H. (Smt.) Mandakini Dagwar was present. The whole city of Kolhapur was decked in saffron for the procession. This also strengthened the faith that the people have reposed in Sanatan.
In the concluding program, Shiv Sena Karveer taluka chief Shri. Raju Yadav said, "Chhatrapati Shivaji Maharaj has shown the way to route out terrorism through his thoughts and actions. Hindus need to unite through the medium of this Dindi. "
Warkari Sampraday, Shri Sampraday, Shri Shiv Pratishthan Hindustan, ISKCON, Bhajani Mandal, Yoga Vedanta Seva Samiti, Yuva Sena, Patit Pawan Sanghatana, Yajna Multipurpose Trust Kolhapur, Kolhapur District Brahmin Purohit Sangh and others participated in the procession
Chariot with an idol of Chhatrapati Shivaji Maharaj seated on the throne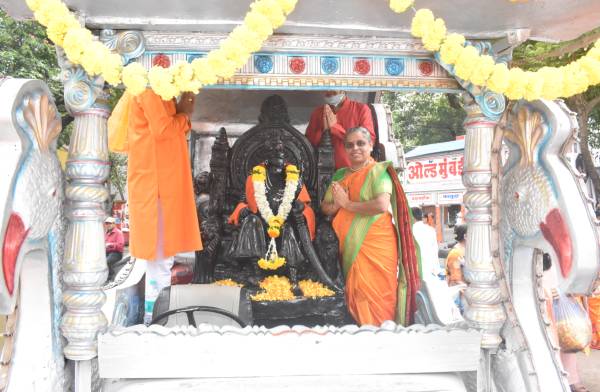 The chariot with the idol of Chhatrapati Shivaji Maharaj was the centre of attraction. The image evoked valour in everyone and the attendees spontaneously shouted various slogans. Many people were seen clicking photographs with the chariot as the procession proceeded through the city.
Devout Hindus from Shiroli, Halondi, Herle, Chokak, Hupari, Rendal, Kasarwadi, Shiye, Pethwadgaon, Kerala, Kerli, Bhuyewadi, Mattivade, Nanganur, Jatrat, Nipani (Karnataka) participated in the procession.
Participating Akhadas – Savyasachi Gurukulam, Chhava Mardani Akhada, Shantidoot Mardani Akhada, Shri. Suraj Dholi and his colleagues of Shambhuraje Mardani Khel Vikas Manch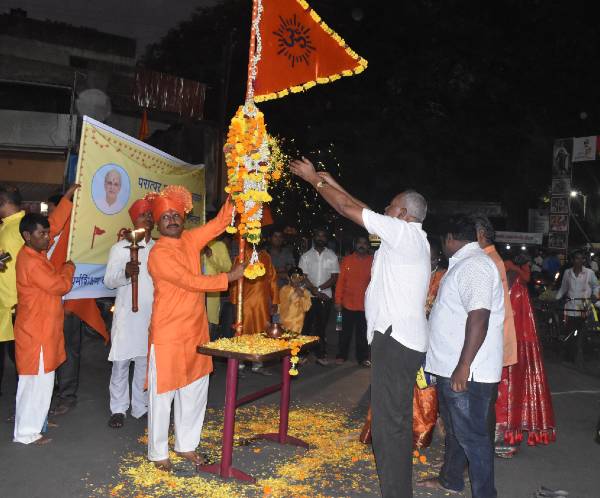 In some places people showered flowers from buildings. As the Dindi was welcomed at various places, people from the community were also seen paying obeisance to the Dharmadhwaj and the palanquin.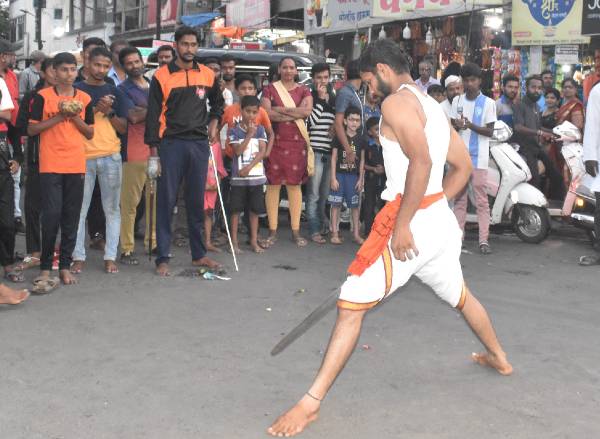 Features of Dindi
Palanquin showing the Guru-disciple lineage
Images with quotes of Paratpar Guru Dr Athavale regarding the adverse times
Child seekers dressed as Sant Dnyaneshwar, Mirabai, Rani of Jhansi, Tararani, Bharatmata, Lokmanya Tilak and Swatantryaveer Vinayak Savarkar
Demonstration of valorous feats from the time of Chhatrapati Shivaji Maharaj by members of the 'Shantidoot Mardani Akhada'
A child from Runamukteshwar Karate Center in Kolhapur who won the hearts of the audience with his demonstrations Gurudwara's Shaurya Pathak
A group of Warakaris chanting Harinama with the accompaniment of Taal-Mridunga
'Sanjivani of Adverse Times – First Aid' team
The area was abuzz with slogans during the Dindi!
Before and after the commencement of Dindi, chants like Har Har Mahadev, Jayatu Jayatu Hindu Rashtram, Jai Bhavani Jai Shivaji, Kaun Chale Re Kaun Chale, Hindu Rashtra Ke Veer Chale, charged the atmosphere with excitement. At this time, seekers from different sects added to the Divine consciousness by chanting 'Shriram Jai Ram Jai Jai Ram'.
Nature of Dindi – Hindu Ekta Dindi
started from Mirajkar Tikati and ended at Gangaves.
The Dharmadhwaj was at the head of the Dindi,followed by a decorated palanquin carrying the images of Shri Mahalakshmidevi and Paratpar Guru Dr Jayant Athavale, a procession of Suvasini's ins traditional attire carrying purna kumbh, a self-defense squad demonstrating self-defense techniques, a team of children, a first-aid team, a of Ranaraginis, a team of devout Hindus singing and chanting to taal-mridangam as well as people carrying flags.
Concluding session of the Dindi
1. Dr. Mansingh Shinde of Sanatan Sanstha said, "The demand for Hindu Rashtra is not unconstitutional. If India can be made a 'secular' nation through an amendment, then why can't India become a 'Hindu Rashtra' through such an amendment? Therefore, to demand Hindu Rashtra is a constitutional right of Hindus. The politicians created the bogey of Hindu Terror. On this occasion, I urge everyone to contribute to the Reinstatement of Dharma by offering their thoughts, skills, time, body and mind".
2. Kolhapur District Coordinator of Hindu Janajagruti Samiti Shri. Kiran Dsse said, "Hindu Rashtra should be established since this country belongs to Hindus. Through this Dindi, all people have come together towards the goal of Hindu Rashtra. Hindus should make efforts to stop the ongoing attacks on Hindu Dharma and the nation. "
Participants – Shri. Rahul Kadam and Shri. Shubham Chougule of the Yajna Bahuuddeshiya Trust Kolhapur
Highlights
1. Many people photographed the Dindi and shared them widely.
2. The women attendees of a Dharmashikshan class from Khupire carrying kalashs.
3. Dhanagari Dhol Pathak was a special attraction.
4. Dharmapremi from Rendal, Shri. Rakesh Shingare donned the costume of Chhatrapati Shivaji Maharaj and participated in the Dindi.
Special event
1. Shri. Dada Jadhav owns a hall near the place where the procession concluded. He lent his megaphone for the concluding meeting and also helped in setting up the stage for the concluding session. He shared his reasons for doing so that he also contributes to Hindutva and that he considers this work to be valuable and necessary.
2. Mr. Dilip Nigvekar and Shri. Abhijit Wagvekar prepared the stage for the speakers.