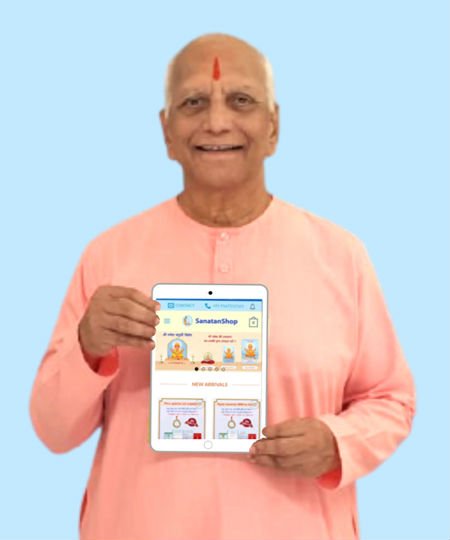 Mumbai – After receiving a tremendous response to the website SanatanShop.com all over India, which provides home delivery of the Holy Texts of Sanatan Sanstha and other Sattvik products, now Sanatan Sanstha has launched the android app 'Sanatan Shop' for its readers and well wishers. The app was launched at the auspicious hands of Sadguru Shri Nandakumar Jadhav.
1. The various Holy Texts published by Sanatan Sanstha like ,'Spirituality for happy life', 'Spiritual practice for spiritual progress', 'Dharmashastra', 'Balsanskar', 'Hindu Nation', 'Ayurveda' as well as Holy Texts on other topics can be purchased via this app.
2. Uptill August 2020, 80 lakh 18 thousand copies of total 325 Holy Texts in 17 different languages have been published. The Holy Texts on various topics are available on this app in 9 different languages namely Hindi, Marathi, English, Kannada, Gujrati, Malyali, Oriya, Tamil and Telugu. The Holy Texts and other Sattvik products are available on the website SanatanShop.com and the android app Sanatanshop at concessional rates. The readers should definitely avail of this offer. Also products like chanting strips, rosary beads, locket of deities, sattvik photos of deities are available for purchase on it. Sanatan Sanstha requests everyone to download this app and convey about the same to relatives and acquaintances.
Sanatan
Panchang

( Calendar)
2021 will also be available at your doorstep !

The Sanatan Panchang 2021 which will be published by Sanatan Sanstha very soon, will also be available on this app.

To download the SanatanShop app please follow the link : http://sanatanshop.com/app
Source : Dainik Sanatan Prabhat